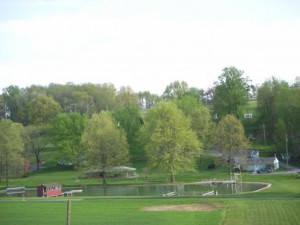 Whether you need some solitude to escape from the pressures and demands of everyday life, or you're with a small group looking for a quiet place for a meeting or retreat, Beaver Creek Farm Cabins is just what you're looking for.
[cta_start]
Looking forward to your group or retreat at Beaver Creek?
Get cottage descriptions, rates, and reservation info here!
[cta_button text="Reserve your facilities »" url=http://www.beavercreekfarmcabins.com/reservations]
[cta_end]
With 10 cottages nestled in the quiet rolling farmland of Lancaster County, Pa., Beaver Creek Farm Cabins is far enough away from the hustle and bustle of tourist attractions to provide picturesque scenery, peace, and memories for a lifetime. Enjoy a long walk down a country road, a quiet afternoon of reading or writing under the shade trees, reflections in the pond, or an evening by the fire.
Our facilities offer a pavilion for gatherings and meals, a pond for fishing, and a grill for cooking. And we're located a short drive from area attractions like the Strasburg Railroad, theatres, shopping and amusement parks. Wi-Fi is also available at the pavilion. Whatever your needs, we can help you with the perfect retreat.