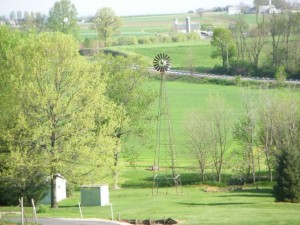 The 35 acres of land that became today's Beaver Creek Farm Cabins began as a vision to create a beautiful, quiet vacation getaway with little homes—or cabins. These cabins were to create "a home away from home" for family and friends to stay.
In 1966 Harold and Miriam Brubaker purchased this land south of Strasburg, Lancaster County, Pa. By the spring of 1967, the first cabin was built and ready for renters. The ruts were filled, the fallen trees removed and the creek straightened.
[cta_start]
Ready to visit Beaver Creek?
Get cottage descriptions, rates, and reservation info here!
[cta_button text="Reserve your cabin »" url=http://www.beavercreekfarmcabins.com/reservations/]
[cta_end]
One after another, each cabin was built until there was a total of 10. Soon after, a pavilion was constructed as a gathering place. Then, picnic tables, a gas grill, and a fire pit followed so people could come together for a meal and relax by the fire after a long day visiting one of the many attractions in the Lancaster County area—including the Strasburg Railroad, Lancaster outlets, Dutch Wonderland or the Pennsylvania towns of Hershey and Lititz.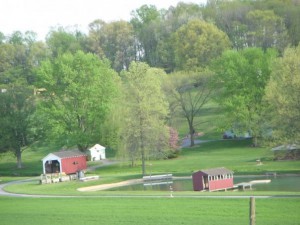 A covered bridge was built over Little Beaver Creek to access two of the cabins and to add beauty to the landscape. Lots of trees were planted to offer shade where you can sit and visit or read a good book. Cookouts were and are still held once a week during July and August to gather with other guests to make new friends that have lasted and continue to grow year after year.
Today, your hosts Ronda Brubaker Brooks and Donnie Brooks continue to offer the same hospitality that welcomed the first guests decades ago. Ronda and Donnie purchased the cabins from Ronda's parents in 1997, fulfilling her childhood dream to continue her parents' legacy of providing a home away from home.